Welcome to Portland Chiropractic Clinic

12741 NE Halsey St.
Portland, OR 97230
(503) 255-0306
Fax (503) 257-1452

Mon-Thu: 9am to 6pm
Friday: 9am to 4pm
Saturday: 9am to 4pm

* Family and General Chiropractic Care
* Therapeutic Massages
* Motor Vehicle Injuries
* Workers Injuries
* Neuromusculoskeletal Consultations
* Integrative and Holistic Approaches
* Evidence-Based Treatment Protocols
* Independent Chiropractic Examinations
* Medical Records Review
* Open 6 days a week

Portland Chiropractic Clinic Mission Statement
To help as many people as possible through natural health care. We want to help our patients in reaching their health goals and result in greater public awareness of natural health care.   We are here to serve you and your family, your friends, and our community.  Our goal is to not only alleviate pain, but more importantly, inspire and educate our patients to become active participants in their own well being.  Our purpose is to perform our work using the highest ethics, integrity and professional standards, never ceasing to improve our services at every level.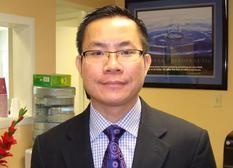 Senh Kevin Chang, D.C. is a trained and Board certified licensed chiropractic physician in state of Oregon and California.  Dr. Chang is specializing in a non-surgical and differential diagnosis of neuro-musculosketetal disorders of the neck, back, and extremities relating to motor vehicle trauma and work injuries.

Dr. Chang received his Doctorate of Chiropractic at Western States Chiropractic College (University of Western States)  in December 2006 and was awarded ASB outstanding graduate. His clinical training started back prior to chiropractic school at Dawson Chiropractic Health Center and Craviotto's Family Chiropractic in Santa Barbara, California. During his chiropractic education, he was an intern at West Burnside Chiropractic clinic where he provided free chiropractic care to low-income patients and observed many complex case types.

In addition, Dr. Chang is very active in his community. He volunteers for the blind and deaf at the retirement centers. Besides English, speaks Chinese, Cantonese, and Vietnamese. His goal is to spread chiropractic to the world and help prevent unnecessary surgical procedures and education the public about the side effects of medications. Dr. Chang's hobbies include: weight lifting, hiking, reading, and studying plants and human anatomy.

Not only do all of our providers accept most private insurance and bill for Motor Vehicle Accident Claims and Woker's Compensation, but we offer discounted rates for payment at the tme of service.

We know health care can be expensive, and we do not want that to be a barrier to our patients' ability to achieve their optimum health goals.  

Services provided under contractual obligation with o have us check your insurance benefits for you or to find out more. 

We are committed to helping our patients achieve their optimal health potentials.
 Portland Chiropractic Clinic - 12741 NE Weidler Street, Portland, OR 97230  Phone: 503-255-0306  Fax: 503-257-1452